This week has a warning…
Be forewarned that there are some images that are not suitable for viewers of all ages (it gets a little bloody).
Ok, now that I've said that I'll continue on with this amazing case of a keratocystic odontogenic tumor (which used be called an odontogenic keratocyst – name change due to tumor-like growth instead of cystic growth).  This case was present in the posterior maxilla and I have some clinical photos of the removal showing the actual lesion.  This location is not the most common location as keratocystic odontogenic tumors occur more frequently in the posterior mandible.  This entity contains keratin which has a yellow cheesy appearance and thsis yellowish color is evident on the clinical picture below.  Whenever considering a keratocystic odontogenic tumor on a radiograph, it should be noted that the following entities should also be included on a differential list.
2. Odontogenic myxoma
3. Central hemangioma
Now onto the case.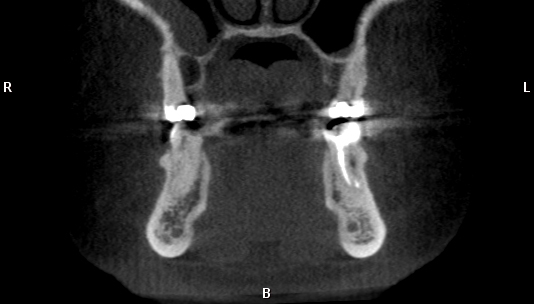 Coronal CBCT slice showing well-defined radiolucent entity in the right posterior maxilla palatal to the tooth.
Clinical photos – left image shows yellowish coloring of neoplasm – right image shows exposed roots after removal of the neoplasm.
Enjoy (and I hope the pictures weren't too disturbing for you)!