Definition: When an area of a tooth extraction or surgical bone removal heals with sclerotic bone.
Bone grafts and sclerotic bone healing: Thanks to Greg for this additional information – "sclerotic bone is usually a result of grafting with a nonbiocompatible bone graft such as cadaver bone or animal bone."
Radiographic Features:
Location: Anywhere in the maxilla or mandible.
Edge: Well-defined to Well-localized.
Shape: Shape of tooth roots in area of extracted tooth, Irregular in area of surgery.
Internal: Radiopaque, more radiopaque than the surrounding bone with a loss of bone trabeculae in the area.
Other: None.
Number: May be single or multiple.
Sclerotic Bone Healing
(arrows pointing to increased radiopaque area in shape of roots in area of previous extraction)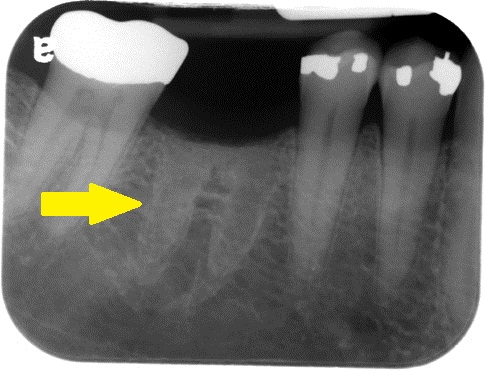 Sclerotic Bone Healing
(without arrow)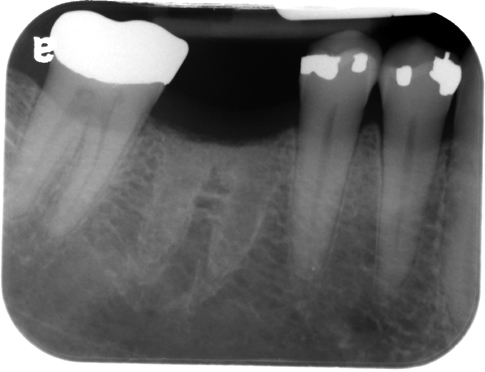 Sclerotic Bone Healing
Sclerotic Bone Healing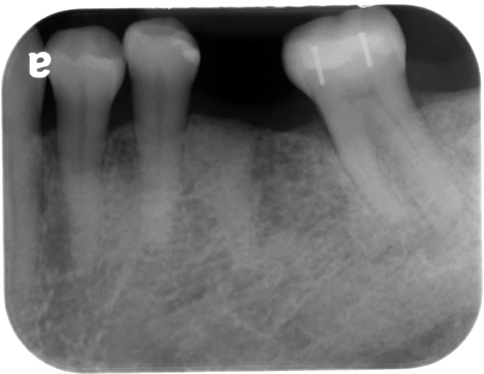 Sometimes with sclerotic bone healing there can be a vertical radiolucent line that appears very similar to root canal.  To determine that this is not a root tip, evaluate the superior aspect to see if it is continuous with the crest of the alveolar ridge on both the mesial and distal aspects.
Root-like Sclerotic Bone Healing
(Note the vertical radiolucent line but that the surrounding bone is continuous with the superior aspect of the area.)